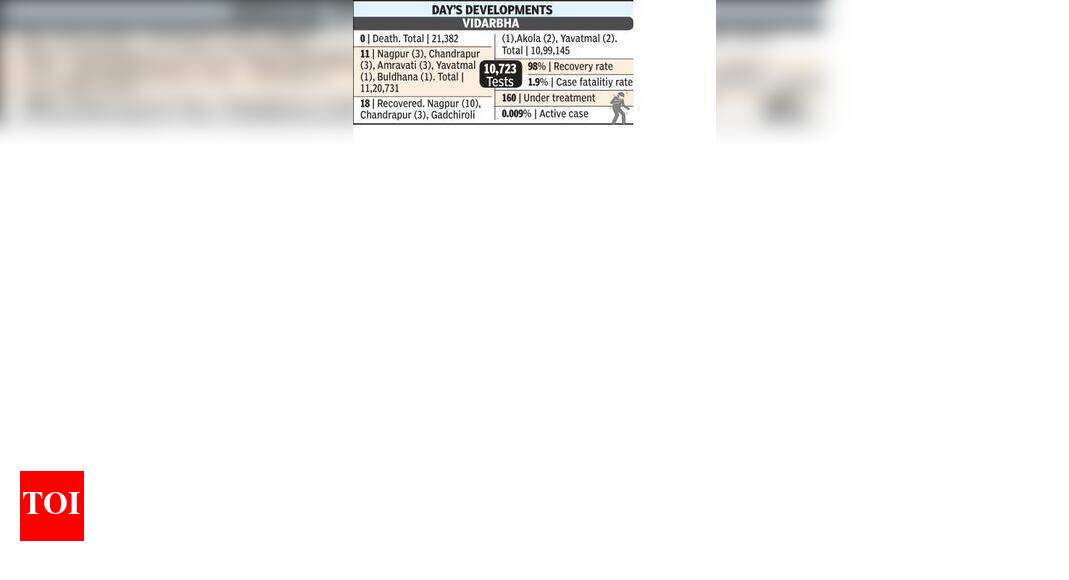 Buldhana Detects First Omicron Case As 67-Year-Old Returnee From Dubai Is Infected | Nagpur News
[ad_1]
Nagpur: Buldhana District reported its first case of Omicron on Wednesday after a 67-year-old man tested positive for the variant on his return from Dubai, the state's public health department said on Wednesday.
This is Vidarbha's second Omicron case, after a man from Nagpur was tested for the same variant. Buldhana Resident Assistant Collector Dinesh Gite said the senior is a local resident, who returned to Buldhana from Dubai on December 3. He tested positive for Covid on December 8, after which he was admitted to a hospital and his sample was sent for genome sequencing.
"The report which arrived today confirmed that he is infected with the Omicron strain," he said. Gite said the patient's condition is stable and doing well.
His family members and other close contacts have tested negative for the infection, the collector added.
Meanwhile, daily new cases remained low in Vidarbha, with just five districts reporting Covid patients in the region on Wednesday. The recoveries were higher than the new cases. No deaths were reported in any of the 11 districts of Vidarbha.
Vidarbha's tests, at more than 10,000, revealed only 11 new cases against 18 recoveries during the day. Now there are 160 active Covid patients.
In Nagpur, only three cases were reported, including one in town, in the countryside and outside the district. Almost 4,000 tests have been carried out in the district, which now has 66 active cases.
Wardha: The district reported no new positive cases for the coronavirus out of 548 test reports on Wednesday.
Yavatmal: The district reported one positive patient, keeping the death toll unchanged at 1,788. Currently, there are 24 active positive patients.
Amravati: Three new cases for the second day in a row brought the district's case count to 94,204 on Wednesday.
Chandrapur: The district saw an increase of three cases and an equal number of recoveries on Wednesday, keeping the active Covid figure stable at 15. The three new patients were found in the town of Mul.
Washim: The district reported no new cases or recovered patients on Wednesday. The count of active cases is two. The district performed 425 tests on Wednesdat. No deaths have occurred.
Full report on www.toi.in
Gondia: No new cases were reported after the administration performed 359 tests. No patient recovered because three cases are active.
Bhandara: The district carried out 445 tests but found no new cases of Covid despite the fact that it was a single patient suffering from Covid.
Akola: The district has not reported any new cases as two patients have recovered. Active cases fell to five while 637 tests were carried out.
Gadchiroli: The district recorded no new cases as a patient recovered on Wednesday. It has 13 active patients. A total of 1,304 tests were performed on Wednesday.
FacebookTwitterLinkedinE-mail
[ad_2]