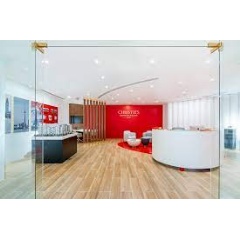 Christie's International Real Estate Dubai opens its doors at the Dubai World Trade Center
Christie's International Real Estate Dubai is delighted to announce the opening of its new office at Dubai World Trade Centre. One of the oldest exhibition centers in the city, the iconic address is a defining emblem of Dubai's rise to international fame.
"We have established ourselves as one of the leading luxury real estate companies in the country," said Jackie Johns, Managing Partner at Christie's International Real Estate Dubai.
"We are now expanding our services. This refined space showcases the most upscale properties and developments from our global network. A dedicated team is also on hand to provide exclusive advice on how to build and sell similar high-end developments in Dubai," added Johns.
Indeed, the location of the Dubai World Trade Center is to act as a gallery for developers, inviting them to join the ranks of globally recognized projects on display. A highly experienced team of advisors will serve as personalized consultants throughout the life of the development, providing services that span strategy, marketing, ROI and market analysis, digital campaigns, broker relations and transfers.
Christie's International Real Estate Dubai is the sole Middle Eastern subsidiary of Christie's International Real Estate and is part of a global network spanning hundreds of offices in nearly 50 countries and territories. These include blue chip markets like the UK, India and France.
The group currently lists around 11,000 luxury properties worldwide and has achieved around AED 1.83 trillion ($500 billion) in sales transactions over the past five years.
Christie's International Real Estate Dubai opened in April 2021, offering bespoke advice on the buying and selling of residential and off-plan properties, as well as property investment advice and portfolio management.
The business grew rapidly. 2021 saw it exceed its annual targets beyond expectations, a trend that has continued into 2022.
Today, its world-class group of specialists has established strong relationships with leading property developers, a commitment to excellence that has already been validated — the brand is currently in the process of delivering a highly sought after development of 247 units, and is the consultant of choice for a number of exclusive property developers.
The company is reaping the rewards of a buoyant real estate market in Dubai. The second quarter of 2022 alone saw sales hit a 10-year high. With 94,170 residential units expected by the end of 2022, positive market conditions are expected to continue, supported by Golden Visa reforms and an influx of affluent residents.
The brand's illustrious history and its ability to constantly adapt to the ever-changing demands of its clientele are in synchronicity with the position occupied by the Dubai World Trade Centre. A distinguished destination, it hosts world exhibitions, concerts and consulates. Welcoming millions every year, it is now also a zone and regulator for cryptocurrencies and other virtual assets.
Christie's International Real Estate Dubai plans to welcome an assortment of high net worth individuals to its Dubai World Trade Center location. With developer-facing services ranging from feasibility research and audience analysis to brand identity development and project sales, the company fully expects to continue delivering a luxury experience. unmatched.
# # #
About Christie's International Real Estate
Christie's International Real Estate has been successfully marketing high value real estate around the world for over 30 years. Through its network of invitation-only affiliates covering nearly 50 countries and territories, Christie's International Real Estate offers unrivaled services to a global clientele at the edge of the luxury residential real estate market. For more information, please visit christiesrealestate.com.
This news content was set up by WebWire's editorial staff. Linking is allowed.
Press release distribution and press release distribution services provided by WebWire.