Hiking the Camino de Santiago – Week 1
Day 1
I was supposed to hitchhike to Puy-en-Velay yesterday, but it's a total failure.
I only managed to cover 9 km from my house in 3 hours, with 4 cars.
I don't remember having had so much trouble hitchhiking.
Anyway, I decided to turn around and take a train.
I get up early this morning to be able to go to the pilgrim mass.
There is one every day at 7am where pilgrims are blessed.
The last time I attended mass was in 2007, when I was wwoofing in South Korea.
It's definitely a different way to start a long trail, but the ceremonial aspect is totally appropriate.
There is a metal gate that opens on the ground and you can go down the stairs of the cathedral and start your walk with a beautiful view of Le Puy (especially this morning in the mist)
It's a pretty spectacular way to start and it really feels like the start of an adventure.
I'm pretty happy with the weather.
It's a beautiful fall day.
The trail today is easy and enjoyable.
Since I'm also collecting data for a hiking app, I have to do a loop for an alternative, where I end up doing the 6km I hiked a few hours ago again.
Which makes for a strange first day.
I was in Le Puy last year in November hiking the Stevenson Trail and the fall colors were at their peak.
It's funny how just a month can make a big difference, because it's pretty green right now.
Day 2
I spend most of the day having a strong sense of déjà vu, as I hiked this section last year on my hike through France.
I was going against the grain and it was quite funny to see all the pilgrims telling me that I was going in the wrong direction.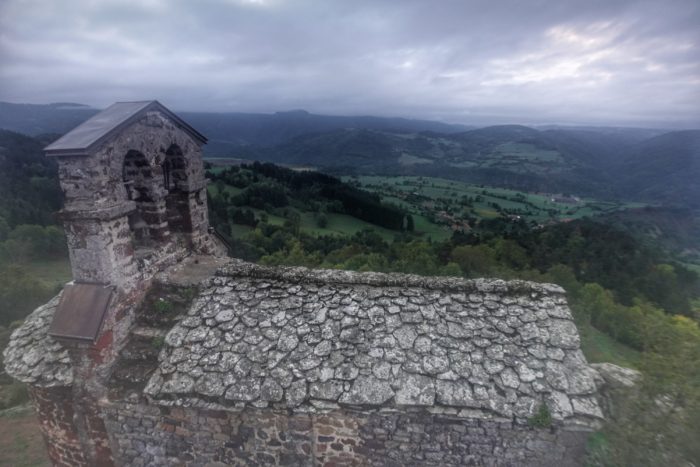 I notice there are a lot of outhouses along the trail that weren't there last year.
A good thing considering the number of hikers.
Hopefully this will prevent having toilet paper (or worse) all over the trail.
I don't know if the whole trail is that way, but if it is, you could do the whole trail and never poop in the woods.
Disturbs. Blowing.
I bump into a guy selling energy cakes on the trail and we chat for a bit.
He tells me that during the walking season (April-September) he sees 350 people a day on the trails. And still 100 now.
It's crazy.
Today I walk in Gévaudan, famous in France because of a "monster" which killed many people in the 14th century, the Beast of Gévaudan.
It was a mystery that captivated France for a long time, until he was finally killed at a time when no one cared.
Turned out to be a giant wolf (or more likely a pack of them)
There's a cool movie about it, Brotherhood of the wolf.
From my hike last year I remember a free cabin that would be great for the night.
I push a little harder and I get there just when it gets dark.
---
Day 3
Boy it was a cold night in the hut!
And it's freezing cold until 10 am.
Then it is really warm and pleasant.
All the pilgrims I have spoken to so far are all section trekkers.
Which makes sense, I guess, given the time of year.
At the same time, if you stay every night in lodges, you don't care if it's cold or wet.
So it can be a good time for hiking.
After leaving the hut, I am already changing counties and regions.
Originally from Haute-Loire, in Auvergne, I am now in Lozerre, in Occitania.
I didn't know I would be leaving Auvergne so soon and I already regret not buying local cheeses (Auvergne has some of the best cheeses in France).
It's another very easy and enjoyable day.
The landscape changes at the end of the day for a very arid landscape, with just a few large rocks which appear from time to time.
And lots of cows.
After pitching my tent, I realize that I have lost my headlamp.
I was charging it at lunchtime and must have forgotten it on a picnic table.
It sucks.
There is less and less daylight and I need it for hiking in the morning and pretty much as soon as I am in my tent.
I'll see if I can send one down the trail somewhere.
---
Day 4
Wow, that was another very cold night.
I have enough stuff to keep me warm at night, but getting out of the sleeping bag is difficult.
And packing a wet freezer tent is one of my least favorite things about hiking.
But, it's another sunny day!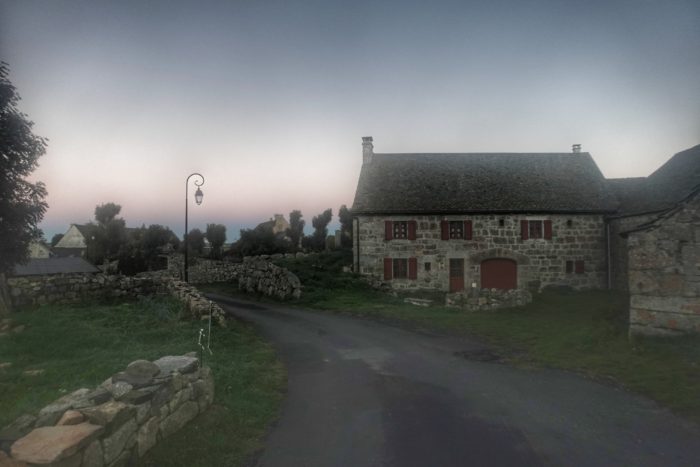 I walk all morning in the same kind of desolate landscapes, crossing some cool hamlets.
Then it gets a little more lush, with beautiful forests.
Although there is a fair amount of roadwalking today.
Because of the cold, my batteries drain very quickly, so I have to recharge everything tonight.
I am looking for a few addresses in Saint-Côme but they are all full!
Then I try the convent, where pilgrims can stay and which seems quite large.
But they don't answer, so I show up to see a sign that the reservations and arrivals schedule is quite strict.
It sounds like a mission to make a reservation anywhere…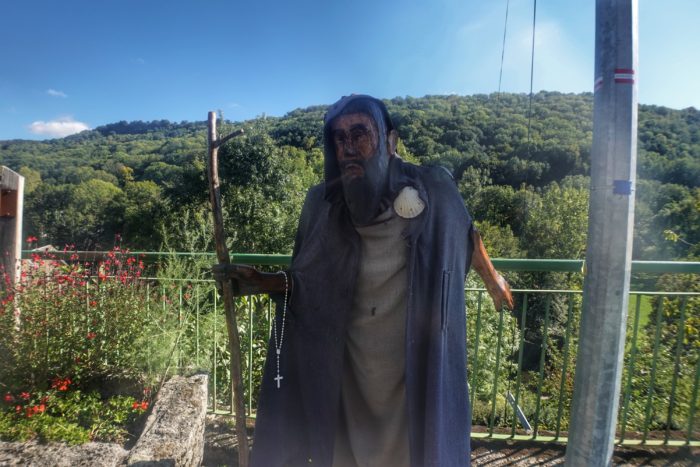 I've heard lots of horror stories of pilgrims rushing for beds, having to wake up at 4am to make sure they get somewhere first, but I never thought it would be the case in October.
I hadn't planned to stay every night in a gite, but from time to time.
But now I'm seriously reconsidering.
Having to do so much planning while hiking just isn't for me.
Anyway, when I arrive in Saint-Côme, I hope to pick up a pizza in a restaurant and recharge my things for a few hours.
But all the restaurants in town are closed.
Luckily, I find a pilgrim shelter that has a catch.
I even spotted a nice campsite near the church, so I won't have to walk in the dark after town to look for one.
---
Day 5
I leave town after stopping at the bakery for breakfast and head to Espalion, the biggest town on track so far.
I meet a gentleman in his sixties, who tells me that he had to stop hiking two days ago because his back hurts too much.
He seems very sad when he tells that he is giving up completely and will not try again to get to Santiago, which he dreamed of.
I decide to book a gite and I have to be there before 7 p.m., which seems a little early to me.
I was shooting more for 8 p.m.
I then join the very beautiful village of Estaing.
There have been a lot of really pretty villages and hamlets so far and it's always something I really enjoy when hiking in France.
After walking briskly for a while to get to the lodge, I decide it's not fun and call the lodge to cancel so I can walk at my own pace.
My batteries are low, but I can do another day with it.
I hadn't realized there would be so much planning to stay in gites at this time of year.
Not sure why you can't show up at 8pm in most places either…
In the afternoon I meet two nice young hikers and we walk for a few hours together.
One of them is actually from the same region as me.
It's nice to be in good company for a while.
We separate in Golinhac where they decide to stay and sleep in a rock.
You read correctly.
I continue to walk another hour so as not to have the same problem as today and arrive in time at a lodge.
---
Day 6
Another easy.
I arrive in Conques for lunch and this place is absolutely beautiful.
For some reason I thought it was a city, but it's not.
It is an absolutely beautiful little village.
I have seen many beautiful villages during my hikes in France but this is the most magnificent.
This is also where many hikers stop.
People who have two weeks vacation and want to do part of the Camino usually stop here.
And it's actually much calmer afterwards!
I don't see a single pilgrim in the afternoon.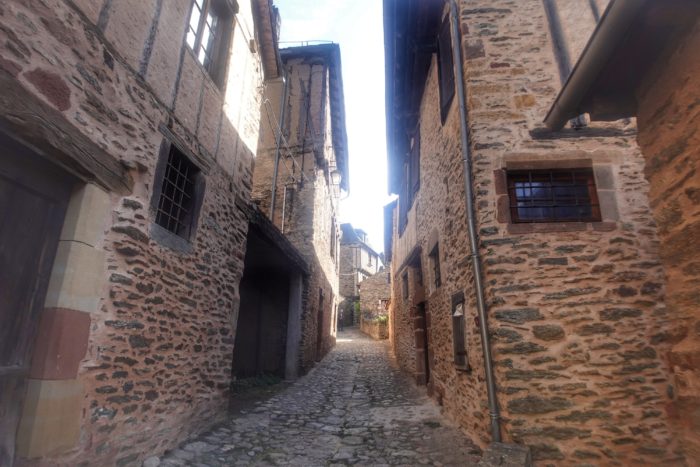 I also realize that I haven't yet met anyone who is going to Santiago.
Everyone is hiking this time of year.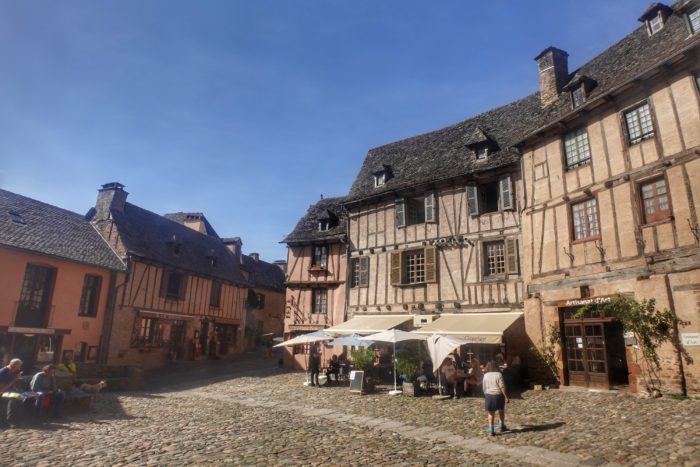 Anyway, I arrive at the lodge, where I am alone!
This is surprising considering how difficult it has been to reserve a place so far.
But apparently it was full yesterday, go figure.
The place is beautiful and much better than I imagined the gites to be.
But I guess this one is particularly nice and I shouldn't get used to it.
I buy cheese and a beer from the owner and he continues to chat for a while.
He tells me about the area and Decazeville's bad reputation on trails and how people generally try to avoid it.
And because the trail goes around the city, it's a big loss for the city's economy, especially since it has already lost two-thirds (it's crazy!) of its population in due to the closure of the local mining industry.
They tried to redevelop the city and attract pilgrims, but it was not very successful.
I was planning on going anyway, as there is an alternative created by the locals driving through town, so I'll see for myself.
---
Day 7
It's a pretty boring day today.
Lots of walks, no cool villages.
In the evening I arrive in Figeac and I wondered all day whether I should stay here for the night or continue hiking a little further.
I find a lodge where you can camp for 5€ so I decide to stay and visit the city.
It's actually a very beautiful one.
I also meet at the lodge my first pilgrim who is also going to Santiago. We have a beer after dinner.
From Figeac and its surroundings, three options are available to you.
You can follow the main Camino on the GR 65, the Celé deviation or the Rocamadour deviation.
As I need the data for the hiking application, I will do all three starting with the GR 65.