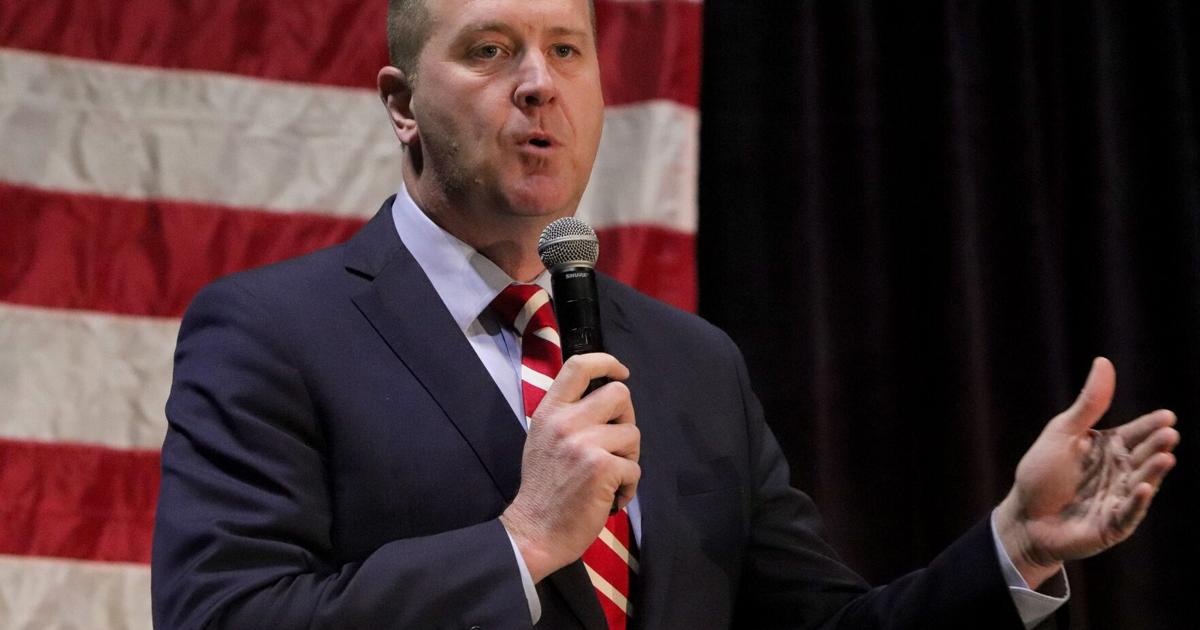 Schmitt Dismisses Lawsuits Against St. Louis, School Districts Where Masks No Longer Needed | Education
JEFFERSON CITY — Attorney General Eric Schmitt on Friday dismissed his challenge to masking rules in the city of St. Louis, and his office also announced the end of dozens of lawsuits he filed against Missouri school districts this year .
Chris Nuelle, a spokesman for Schmitt, a Republican candidate for the U.S. Senate, said the attorney general dropped the St. Louis lawsuit because "there is no mask mandate" in the city. Indoor masking rules in St. Louis were last in effect on March 5.
"As Eric Schmitt wastes taxpayers' money trying to lift his Senate campaign, the City of St. Louis will continue to follow the advice of health and hospital experts," said Nick Dunne, gatekeeper. word of Mayor Tishaura O. Jones, in a press release. Friday.
He said the masking rules were "allowed to expire as key COVID-19 metrics – hospitalizations, case counts, case positivity rates – move in the right direction".
Nuelle said the attorney general's office is prepared to pursue another lawsuit if the city reinstates the masking requirements.
Earlier Friday, Nuelle confirmed that Schmitt was dropping lawsuits against school districts that no longer had masking rules in place.
Schmitt announced in January that he was suing more than 40 school districts across the state with masking requirements in place to control the spread of COVID-19.
"Because of this successful litigation and the fact that many school districts have dropped their mask mandates, we are dismissing lawsuits in districts where masking is no longer required," Nuelle said in a statement. "However, make no mistake, the Attorney General's office is ready, willing, and able to pursue more prosecutions if school districts ruthlessly decide to force masking of children at school all day again."
He said lawsuits will continue in five school districts that still have masking requirements: University City, Maplewood-Richmond Heights, Clayton, Normandy and Center in the Kansas City area.
He said lawsuits against the Districts of Columbia and St. Charles, which no longer have mask rules, are also continuing.
"They (the lawsuits) have been a distraction for our school districts," said Christine McDonald, spokeswoman for EducationPlus, which represents school districts in the St. Louis area.
Nuelle said the lawsuits led districts to abandon the rules, but McDonald dismissed the claim, saying the lawsuits played no role in the policy changes.
"These lawsuits really hadn't progressed very far," McDonald said. "Any school district decisions to drop or change their mask policy have been based on data we have had in our communities, consultations with doctors, and a decision made by their board.
Missouri's rolling average of COVID-19 cases peaked at 15,130 on Jan. 6 and has since dropped — to an average of 470 cases on Friday, according to post-shipment analysis.
"We still stand by the fact that elected school boards can and have the ability to make those decisions," McDonald said. "And it was ultimately them who made the decision to change status."
In December, Schmitt sent cease-and-desist letters to districts telling them to immediately end quarantine and masking rules after a Cole County judge issued a ruling reversing the state's health regulations. State.
Educators said they have the authority under Missouri law to take such action in response to the pandemic.
A letter from the Missouri School Boards' Association said at the time that "the authority and obligation of school districts to prevent the spread of contagious disease in schools has not been affected."
He cited five Missouri statutes that "give the local school board authority to establish health and safety rules," including one law that gives school boards "general control over the property and affairs of any school district. and another saying that it is illegal for a child to go to school while suffering from "a contagious or infectious disease, or if he is likely to transmit such a disease after having been there. exposed".
But parents and students opposed to mandatory masking presented Schmitt's cease and desist letter to administrators in protest.
Schmitt asked parents to email information about mandatory masks and quarantines to a hotline set up by his office called "[email protected]"
In January, his office tracked dozens of lawsuits seeking to end mandatory masking policies in schools. Many tipsters have been listed as plaintiffs in the lawsuits.
Originally published at 6 p.m. Friday, March 18.